The History of
the Geib Musical
Instrument Case Company
Preface: Geib, Inc. is one of the legendary names in vintage musical instrument cases. Behind their quality products is a fascinating story of a successful American manufacturing company that was built by the hard work and integrity of the Geib family.
I am grateful to the following members of the Geib family for contributing their personal recollections and some rare photos to complement my own research: John Geib, grandson of founder Charles A. Geib and a longtime employee of the company; Jeff Geib, great-grandson of Charles A. Geib; Jerry Bowers, grandson of Nicholas V. Geib and a longtime employee; and finally, Jerry's son, Greg Bowers.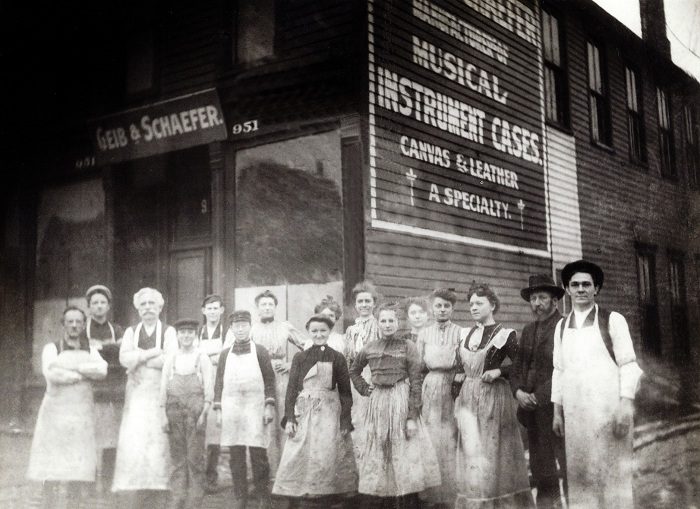 The Geib & Schaefer Company, 1906 (1)
The man on the right is Charles A. Geib. The older gentleman next to him is Jacob U. Schaefer. Standing next to Jacob is his daughter Mary.
Identifying the location of this building was a bit of a conundrum. A 951 street number is not mentioned in any of the historical accounts or company advertisements. The Thomas Poole article below says that in 1902, G&S erected a 2,500-square-foot, one-story factory at 1757 Central Park Avenue, and the next year, they added a second story to the building.
Here, we have a photo of a two-story factory in the right time period but with the wrong street number. How do we reconcile these facts? The answer is that in 1909, Chicago undertook a renumbering of streets throughout the city. Thus, 951 North Central Park Ave. became 1757 North Central Park Ave. This original 1902 location continued as a production facility throughout most of the company's history.
(1) Photos courtesy of Greg Bowers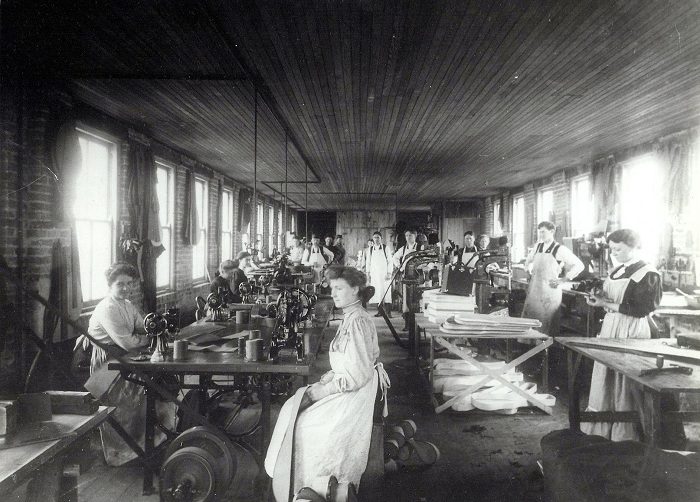 The Geib & Shaefer Factory Shop Floor, 1906 (1)
This is an extremely rare view of the inside of an early instrument case factory, showing the workers at their stations. On the left, the ladies are sewing canvas cases at a table of sewing machines powered by a "line shaft," which is being belt-driven from an external steam or gasoline engine. Watch your skirts, ladies! The pipes from the ceiling are gas lights.
To the right are a pile of wooden violin case carcasses, ready for covering with Keratol imitation leather. At the top of the pile of unfinished cases is a completed case that appears to be the right size for a gramophone. Just behind that are two large floor-standing rivet machines, operated by a foot pedal to install case hardware with spit rivets.
If you look carefully, you can spot Jacob Shaefer and Charles Geib at the far end of the room. Jacob's daughter Mary is on the far right, and the young man just behind her is possibly her brother William C. Schaefer. This view is probably the second floor of the building above.
The office pictured below would have been on the first floor at the front of the building, and behind the office was probably the woodworking department where the wooden case carcasses were produced. The woodworking department would have had a similar belt-driven "line shaft" powering saws, sanders, and other machinery.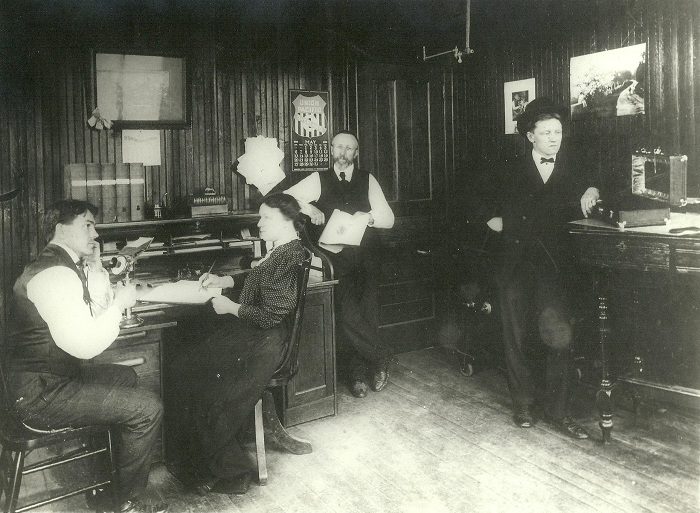 The Offices of the Geib & Schaefer Company, 1906 (1)
Left to right are Charles A. Geib on the phone, Mary (Marie) T. Shaefer, Jacob U. Schaefer, and Nicholas V. Geib with a Trumpet Case. Charles and Jacob are founding partners. Nicholas (brother of Charles) joined as a partner in 1906. Mary is the daughter of Jacob and the future wife of Nicholas.

Geib & Schaefer Canvas & Leather Cases
The canvas and leather cases produced by Geib & Schaefer were not soft "gig bags." They were actually relatively sturdy. It's true they had less protection than the later hard shell cases, but they generally offered more protection than today's chipboard cases. They were reinforced with "strawboard," which is stiffer than cardboard. G&S did not put an identifying brand on their early products, so we are unable to positively identify existing examples.
Canvas Case from 1917 Gibson Catalog. Quite possibly a G&S brand.
Description of G&S Canvas Case: We use a very heavy grade of strawboard covered with a fine quality canvas; heavy fleeced, lined edges are bound with Keratol, a leather handle, and trimmings.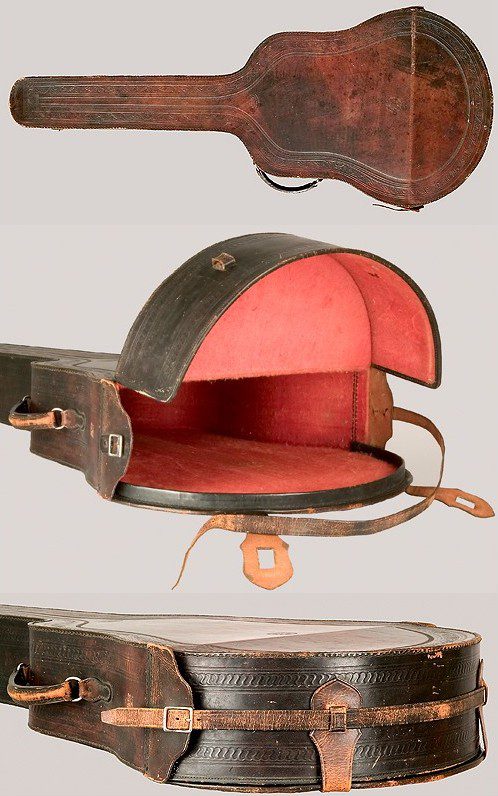 Leather Case, showing the end-opening mechanism typical of both leather and canvas cases of the period.
Note: This is an M&W brand case, but G&S cases would have used the same sort of design. Today, these cases are often disparaged with the nickname "bottom dumpers," but when new, they offered fairly good protection. At the turn of the century, a leather case was considered the best possible quality.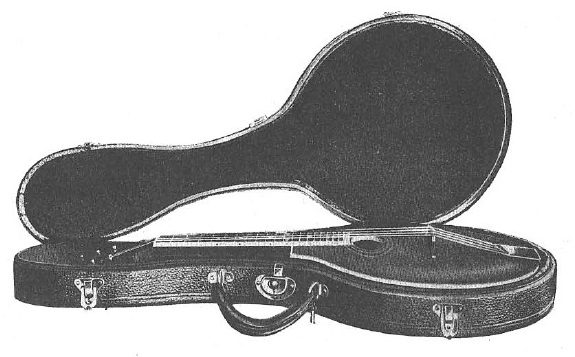 A "Faultless" case from the 1917 Gibson catalog, most likely a Geib & Schaefer.
Here's Gibson's description of their "Faultless" case: the body of the case is three-ply, cross-grained veneer, covered with black seal art leather and molded to fit the instrument. Opens full-length like a violin case. Lined throughout and padded. Fine quality velvet or velour plush lining. Nickel-plated trimmings, lock, and key. Collapsible handle. String and pick pocket molded in case.
Early G&S hard shell cases did not yet have the oval stamp on the bottom but usually can be identified by the diamond design on the lid of the accessory pocket.
The Newly Invented "Hard Shell" Case
The description of the new "Faultless" case seems quite ordinary to us, but in the early 1900s, it was a radical new design. About 1904, we see the introduction of this new type of construction for cases of fretted instruments and orchestral instruments. It is a side-opening hard shell case molded of wood veneer plies, covered with Keratol imitation leather, lined with plush, and closed with spring catches.
It appeared positively modern compared to the canvas or leather end-opening cases and the black wooden "coffin" cases which had preceded them. Some features of the hard shell case had been evolving in violin cases for a decade or two.
Now, finally, all the components were available to make the hard shell case possible: inexpensive rotary-cut veneer, Keratol covering, and spring catches. It soon became the new standard for high-end cases. Leather prices were rising in the early 1900s, and by 1917, Gibson announced they had eliminated the leather cases from their catalog. This new style of construction was probably pioneered by M&W (Maulbetsch & Whitemore), a New Jersey competitor. M&W supplied many of Gibson's cases in the early 1900s, but Geib & Schaefer quickly began producing quality hard-shell cases. By the time M&W sold out to Felsberg in 1920, G&S was supplying many, if not most, of Gibson's cases and would continue to do so until well after WWII.
Chronology of the Company
1899 - Geib & Schaefer Company Established
The Geib & Schaefer Company, also known as G&S Co., was founded by Jacob U. Schaefer and Charles A. Geib in Chicago, Illinois. With 6 employees in an 800-square-foot facility, they manufacture canvas cases and leather cases for guitars and mandolins.
(Thomas Poole)
The address was 1739 Hancock Avenue, which has been renamed Drake Ave. and is 2 blocks east of the later location at 1757 North Central Park Ave.
Note: Thomas Poole reports a founding date of 1900, but G&S advertisements state, "Established 1899."
May 22, 1900
Charles A. Geib marries Elizabeth Schaefer, daughter of Jacob U. Schaefer.
1902
G&S builds a 2500-square foot factory at 1757 Central Park Avenue, and continues subsequent enlargements in the following years.
(Thomas Poole)
The 1918 version of the building still exists at this site, though abandoned. See the photo further down.
1906
The partnership adds Jacob's son William C. Schaefer and Charles' brother Nicholas Victor Geib. By 1916, Charles and Nicholas Geib have married the daughters of Jacob U. Schaefer.
(Thomas Poole)
1916 - Founding member Jacob Schaefer dies.
December 31, 1916 - Chicago Tribune
Obituary: Jacob Schaefer passes away.
Jacob B. SCHAEFER Sr., Dec. 30, 7 p.m., in his seventieth year, beloved husband of Mary B. Noel, fond father of Elizabeth Geib, Mary Geib, and William C, Jacob Jr., Joseph, and Margaret SCHAEFER, Funeral from his late residence, 3635 Cortland-St., Wednesday, Jan. 3, 1917, at 9:30 a.m., to St. Philomena church, where requiem high mass will be celebrated. Interment St. Joseph's cemetery, by autos. Member of St. Philomena court No. 398, C. O. F. Record Number: 19161231dn035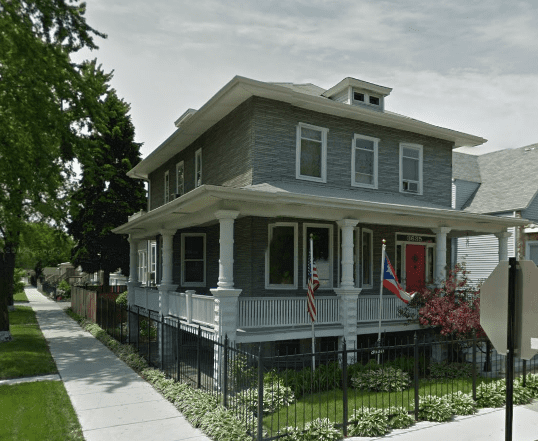 3635 Cortland St., Chicago, Il, Home of Jacob U. Schaefer
Located about 3 blocks from the factory at 1757 N. Central Park Ave.
1918
Factory has 27,000 square feet of space and more than 100 employees. Geib & Schaefer is claimed to be the largest case manufacturer in the United States and probably the world.  (Thomas Poole)
Note: This is the square footage of the existing factory building at 1751-57 N. Central Park Ave. See photo below.
Manufacturing and Wholesale Industries of Chicago,
Thomas B. Poole Company, 1918
Geib & Schaefer
Chicago has many manufacturing industries which figures not only as the largest in their specific fields to be found in the United States and undoubtedly in the entire world. Definite precedence of this order attaches to the extensive business conducted by Geib & Schaefer in the manufacturing of high-grade cases for music instruments, sample cases, cases for thermos bottles, etc., the various products being constructed of wood, leather, fiber and canvas and each type representing the acme of excellence. Like many another of the important industries of the western metropolis that of Geib & Schaefer has been developed along normal and conservative lines and from small beginnings.
In the year 1900 Jacob U. Schaefer and Charles A. Geib, both expert mechanics, formed a partnership and began manufacturing musical instrument cases and other similar products on a very modest scale, Mr. Geib having served a four years' apprenticeship in this special line and having become an expert artisan, while his partner had been fortified through one year of practical experience in the same field of manufacturing. With limited financial resources the two energetic and ambitious partners initiated manufacturing operations in a building at 1739 Hancock Avenue, where they made requisition of a floor space of only eight hundred square feet and where the original force of employees numbered only six.
The province of the enterprise at the start was confined to manufacturing of canvas cases for guitars and mandolins, and before the expiration of six months the scope of the business was expanded to include also the manufacturing of leather cases for musical instruments. Mr. Geib assumed the functions of business manager and salesman and Mr. Schaefer gave his close attention to the work and management of the factory. So effectively did Mr. Geib exploit the new enterprise and prove successful in the sale of the products that the business of the firm for the first year aggregated about thirteen thousand dollars, the output having been sold almost entirely to Chicago jobbers and retail dealers. With confidence in the cumulative success of their business, the principals in control of the now substantial business purchased, in 1902, a site at 1757 Central Park Avenue, and there erected an one-story factory building that supplied an aggregate floor space of twenty-five hundred square feet. The next year a second story was added to the building, while later the demands for greater accommodations led to the building of a second story and otherwise supplementing the plant until it now has a floor space of twenty-seven thousand square feet. The mechanical equipment and all incidental facilities are of the best modern type and in the operations now carried forward in this well equipped institution more than one hundred persons are employed, the greater number being skilled mechanics. The products of the factory now find sale in all parts of the United States and Canada, and a substantial trade has been developed also in Hawaii, Cuba and South Africa, the average annual business being now in excess of three hundred thousand dollars. Mr. Geib still remains in charge of the sales and general business of the firm and his honored associate, Mr. Schaefer, remained as general superintendent of the factory until his death, which occurred December 31, 1916. In 1906 William C. Schaefer, a son of Jacob U. Schaefer, one of the two founders of the business, was admitted to partnership, as was also Nicholas V. Geib, a brother of the other founder and present executive head of the enterprise. The firm how holds precedence in being the most extensive manufacturers of music cases in the United States, and it is probable that no concern in the world controls a larger or more important business in this field of industrial enterprise. The firm has membership in the Illinois Manufacturers' Association and stands as one of the vigorous and representative exponents of manufacturing and commercial enterprise in the western metropolis. William C. Schaefer is superintendent of the leather and canvas department of the business and factory, and Nicholas V. Geib has the superintendency of the woodworking department.
Charles A. Geib was born in Newberg, Wisconsin, April 29, 1876. His early educational advantages were limited. As a youth he learned the lessons and value of honest toil - principally through his association with the work of the home farm. He did not have the advantages of going to school for more than three years altogether. In 1896, at the age of twenty years he established his home in Chicago and found employment in the factory of Martin Weick Manufacturing Company, manufacturers of cases for musical instruments. His apprenticeship was most through and he acquired a full knowledge of all details of manufacturing as well as the commercial phases of this line of enterprise. He continued as a valuable employee of this company until 1900, when he initiated his independent career in the same line of manufacturing, by forming a partnership with the late Jacob U. Shaefer establishing the firm of Geib & Schaefer. May 22, 1900 recorded the marriage of Mr. Geib to Miss Elizabeth Schaefer, a daughter of his former partner, the late Jacob U. Schaefer, and the six children of this union are: Clarence G., Ambrose, Loretta, Dorothy, Lucille and Charles, Jr.
Jacob U. Schaefer was born in Oberprince Hessen, Nassau, Germany, in the year of 1847. In 1880 with his wife and one child he came to the United States. He was employed by the Pullman Company for twenty years. In 1899 he entered the employ of Martin Weick Manufacturing Company, and one year later he became associated with his son-in-law, Charles A. Geib, in organizing the firm of Geib & Schaefer and founding the business still conducted under this title, his active association with the enterprise having continued until his death, December 31, 1916, at the venerable age of sixty-nine years and eight months. Mr. Schaefer was a man of sterling character, commanded the respect and confidence of all who knew him, and lived an honest, upright and industrious life, one of the world's noble army of productive workers. In Hessen-Nassau, Germany, was solemnized his marriage to Miss Mary Noll, who survives him, and all save the eldest of their eight children were born after their emigration to America. Of the children two are deceased; Elizabeth is the wife of Charles A. Geib, as noted in the forgoing article; Mary is the wife of Nicholas V. Geib; William C. is a member of the firm of Geib & Schaefer, and the three younger children, Jacob U. is foreman at Geib & Schaefer's; Joseph A. and Margaret remain with their widowed mother.
William C. Schaefer, superintendent of the leather and canvas department of the factory of Geib & Schaefer, was born in Chicago on the 7th of January, 1884. As a lad of fourteen years he began work in the factory of Martin Weick Manufacturing Company and his experience was such as eventually to give him prestige as a skilled mechanic. Upon severing his association with this company he became one of the founders of Geib & Schaefer.
Nicholas V. Geib, founder of the veneer molds, fibre, and woodworking departments of Geib & Schaefer was born near Newburg, Wisconson on the 5th day of June, 1880. After his school days he left his parental home and traveled in various parts of the country - where he was employed in several lumbering and mechanical operations - his natural mechanical ability giving him marked facility in his work. In 1904 Mr. Geib came to Chicago and took employment in the factory of Geib & Schaefer, where under his skillful and mechanical workmanship devised new ways and means of adopting quicker and more accurate devices in the woodworking department of the well organized plant and entered as junior partner with William C. Schaefer in 1906. Nicholas Geib married Jacob U. Schaefer's daughter Mary.